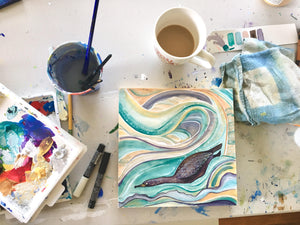 Year in Review 2019!
My favorite year-end activity is looking back on the year that passed. When you are in the day to day grind, you have small accomplishments every day. It is easy to forget about the larger mountains scaled. Taking a moment to reflect reveals that your hard work pays off, and you are chipping away at goals. It can also highlight shortcomings that become objectives for the new year. Here are some of my top accomplishments of 2019!
1. Creative Growth
I discovered a new level of ease in my creative practice this year, thanks to a combination of experience, incorporating new mediums, and teaching. My style appears on the canvas effortlessly, and I scaled down in size with my originals, creating more small pieces and fewer large ones.
If you read my earlier post about exploring art mediums, you know I have struggled with finding balance and time to create the way I used to before becoming a mom. Finding my flow again is a huge accomplishment!
2. Taught over 45 classes!
Teaching has been a great addition to my business, and I love it! I am absolutely thrilled to see what everyone comes up with, how their creativity unfolds. Even first-timers have genius ideas and unique styles, and it gives me so much joy to bring that out in students. My classes are full of supportive energy, laughter, and creativity. Our community of artists is growing and I often see familiar faces returning to different classes and new friendships forged!
3. Two exhibitions and many popups
Some people create art for themselves, but I find inspiration to create when I see my work appreciated by the community. This year I geared up with exhibiting my work. My approach was to say yes to every opportunity!
I am one of the few artists who actually enjoy art festivals with their long hours and heavy lifting. I love spending the day meeting new people, showing my work, and if it's not super busy, working on watercolors or sketches.
In addition to abundant popups and art festivals, I had two exhibitions this year! My work hung at Alliance Physical Therapy in March, and the Capitola Wine Bar from July until the present. 
4. Collaborations
What I love about collaborations is that everyone participating has unique skills and knowledge that come together in a meaningful way. Over the summer I worked with Ventana Surfboards, creators of eco-friendly surf craft, to decorate one of their hand planes with a painting. Later I created a mural for Countercurrent Art & the Plastic Pick up for the back of their traveling golf ball wave. The mural tells an important story about plastic pollution. If you would like to collaborate on a project, don't hesitate to reach out!
5. Lots of time spent doing things I love!
My top priority is filling my time by doing things that I love, and this year did not disappoint! Besides mini adventures like beach days and hikes, I enjoyed overnights in Henry Coe, Big Sur, Big Basin State Parks, and a week in Yosemite. I have magically found more me-time, which looks like sunrise surfs, time with friends, reading, and exercise. And of course, I cherish daily laughs and snuggles with my little family!
It has been a great year and I will keep rolling with this momentum into 2020, adding in a couple of new goals:
Create & publish my Ocean ABC book

Grow my virtual class offerings on Skillshare

Go on an international trip
What are your favorite moments of 2019, and what are your wishes for 2020?
---
1 comment