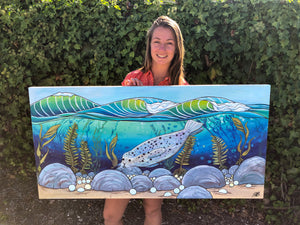 "Fore the Waves"
When the Plastic Pickup asked me to create a mural that would go behind their massive golf ball wave project, I knew it was a perfect fit! Just a few years ago these 20,000 golfballs were sitting on the ocean floor, releasing plastic into the sea as their outer core degraded.
Alex Weber of The Plastic Pickup led the golfball collection effort and went on to publish a scientific study demonstrating the release of toxic components. As a result, NOAA Marine Sanctuaries and Pebble Beach Golf Course designed a protocol to collect the 2-5 million more balls estimated to be along the coastline. The goal of this art installation is to expand the adoption of the cleanup protocol to coastal golf courses globally while highlighting the power of individuals to make a positive impact on their local ecosystem. Read more about the project here!
My contribution to the installation was to put the project into context. By creating an image that depicts where the golf balls were found, we can start a conversation about where pollution ends up. From there, changes come into effect to restore the ecosystems affected.
Polly the seal is the inspiration behind the painting! 
After sketching out the concept, my first step was to create the environment. Three waves breaking at the surface, kelp forest fading into the background, and rocks and golfballs on the seafloor.
Close up of some Bull Kelp. I had a lot of fun painting this background.
First layer on Polly the Seal. It usually requires several layers of paint to build up the right textures and colors. The rocks and waves were a similar process: not quite finished on the first go!
Layers & details give life to Polly! She seems to wonder why her home is polluted.
The original painting is only 2'x4'. The image was expanded to 6'x12' to fit the back of the wave. It is printed on a durable signboard so that it stands up to the elements while on the road! The wave's first stop was Kelly Slater's Surf Ranch, after which they are off to the Ohana Festival. I can't wait to see where else this story goes.
The mural was printed which means... the original painting is available! 50% of the sale price will go back to nonprofit Countercurrent Art so that they can continue their awesome work. Countercurrent is a California 501(c)(3) non-profit that fosters ocean stewardship through science-based public art exhibitions and youth workshops. 
Paper prints and gallery wraps are available with a portion of proceeds also donated. 
---