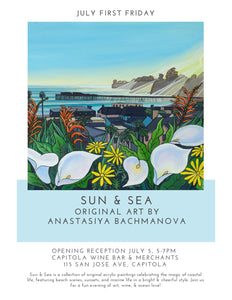 Sun & Sea: July First Friday Show
I will be showing my art at the Capitola Wine Bar in July! Come out to the opening reception for a fun evening of art, wine, and ocean love! FREE event!
The show will feature a combination of my original paintings from the last few years, along with some of the new techniques I have been experimenting with this last year. The paintings feature ocean, beach, and marine life subjects, created in my bright and cheerful style. 
 Opening Reception: July 5, 5-7pm
Capitola Wine Bar & Merchants
115 San Jose Ave, Capitola, CA
---
1 comment