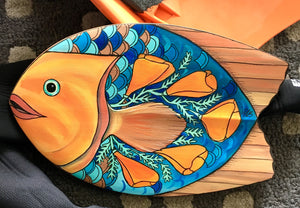 Ventana Handplane Collaboration
This month I collaborated with Ventana Surfboards on their first-ever Handplane Artist Project! I've always admired Ventana for their commitment to the environment. The reclaimed redwood handplane will be finished with neoprene wetsuit offcuts for the hand strap, and glassed with an eco-friendly bio-based resin, ready to glide down any wave! Here are a timelapse clip and some progress pics!
I drew inspiration from the canary rockfish (for its color) & California poppies, our state flower. I allowed bits of the redwood to show through.. one thing I love about using wood as a surface. 
The opposite side where the strap goes to attach it to your hand for wave riding. I just couldn't leave this whole other blank canvas alone!
The finished piece! This handplane is off to be glassed and will be available at www.ventanasurfboards.com
---
1 comment