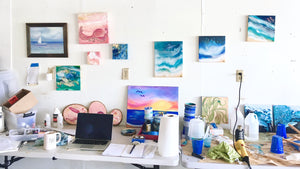 Why I am Exploring New Art Mediums
Becoming a parent is a pivotal time in anyone's life. As I write this, my daughter is approaching 2 years old and I have finally settled into my role as a mother. I have embraced the many transformations (and challenges) that come with parenthood. Lately, I have been reflecting on how it has particularly affected my work as an artist. In the first few months of my daughter's life, I did not notice much shift in my work and style, but I was also so focused on diapers and baby things. Looking back on this last year I have actually experimented a lot as I stepped back into art life.
During the first four years of running my art business, my plan was clear, and I was doing what brought me joy: mainly acrylic paintings of marine life. I spent so much time in, under, and near the ocean. I soaked it all in and it seeped out onto my canvas. I was developing my stylized creative flow and eventually, my body of work had a unified look. 
The biggest variable between my pre and post kid life is time. I mean, kids take up SO much of your time and having never been around babies or little kids until I had my own, I was not prepared. Of course, every moment is so precious and wonderful and beautiful, I would not give it up for anything. Rather than having the wrong expectations, I had none & went with the flow. No disappointment, so much JOY, and heaps of adaptation.

After adjusting to my new role I steadily returned to my creative practice and art business. I tried staying on the same track as before but suddenly was not experiencing as much joy from what I was doing, and began to feel a little lost. I am rarely in the ocean anymore (there goes the inspiration.) I have maybe an hour a day to dedicate to creative work. With less time, I do not have the patience to sit through the frustrating part of the painting process for days or weeks while working on large, detailed acrylic paintings. 
I needed to do something new. Birth a new process, if you will. First I tried watercolors. I have always admired their appearance and constantly struggled with them as well. Watercolor is so different from acrylic because you have less control over what the paint will do, and pretty much get one shot at a painting. I stumbled onto some great online tutorials and got a handle on the medium. I found watercolors to be much more therapeutic. The painting does not depend on me as much, I just guide the paint and watch it do its own thing. Release of control.
My next undertaking was the Inktober challenge, which consists of creating a daily ink drawing throughout October. My goal was to get in a better habit of carving out time for art. I have an abundance of ideas but the challenge is making time to get it out of my mind and on paper. I also craved the achievement of having some new work in my portfolio for 2018. I created a small ink drawing almost every day and succeeded in my goals!
My latest undertaking is acrylic pouring and resin art. It is unlike anything I have done before and feels like a new and exciting adventure. The methods are spontaneous, abstract, and so relaxing. I have never been this excited to watch paint dry, as it evolves so much in the process. I can make more pieces in a shorter amount of time - win! To stay true to my past work, I love incorporating sea creatures and other elements into the abstract pieces.
Throughout the exploration, some things have stayed consistent, like my love of color and tendency towards nature-inspired and animal subjects. I think the biggest change is my intention behind my creative practice. In the past, my fulfillment came from capturing personal experiences and sharing stories. Now I am looking inward more. Being creative provides an escape from responsibility and stress. It is a form of self-care and therapy. I am grateful to have this outlet. My days have become a bit more routine, so the new techniques also fuel my adventurous spirit.
I hope it has not been too confusing watching me bounce between styles and mediums. I was apprehensive about trying new things after working so hard on my niche. Thanks for following along with my creative journey. 

I would love to hear about your experience. What drives your creative process, are you a parent, have you had other pivotal life shifts? Tell us in the comments!
---
1 comment