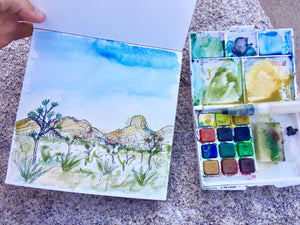 2020 Silver Linings
I am making it a tradition each new year to go through the year before to reflect on highlights & accomplishments. I am a firm believer in the woo-woo law of attraction spiritual stuff: that the thoughts and attitude you put out into the world is what you receive more of. When we focus our attention on the positives rather than the negatives, we will find more of that in our lives. So here are my silver linings from the year that was, 2020.
Virtual Connection
I am not going to lie. I was SO nervous the first time I hosted a live stream online. I spent a few hours preparing and writing out a script (total introvert style), and it took me at least 5 minutes to muster up the courage to push that "Go Live" button. Since that initial fear, it has become natural to go live in front of the camera and connect over Zoom. While in February, I would have avoided it at all costs, it became a normal part of life in March.
I am so glad that I jumped on the virtual wagon early! I didn't have any expectations for it. I just wanted to try something different to replace the in-person classes I loved hosting. I am amazed to see what online teaching has evolved into for me: keeping the connection alive as we isolate and pod up, sharing the joys of having a creative practice. Even meeting people from farther away than I would normally see - from the East Coast to Canada!
Patreon
I launched my Patreon last February, just in time for the shutdown. Without a doubt, having that bit of predictable monthly income helped me weather the year. It is a community I am grateful for, where we have a true connection over art. I am gradually finding more freedom to pursue personal projects with more dedication and passion! Our regular Virtual Paint Nights in the Paint Along Club also keep me inspired, and I love how much we learn together.
Murals
It has been an honor to have a couple of mural projects this year. I have been waiting to add to the Santa Cruz Muralscape and have that art on display for all to enjoy. The Seacliff Mural shook things up with fresh momentum after a stagnant year. I am grateful for the private commissions that have come after this large project and look forward to painting more custom canvases, big and small this year!
More time for adventures
Probably my favorite silver lining, being the adventure junkie that I am. Since I was not hopping around from art fair to art fair each weekend through the summer and fall with classes and other work in between, I found more time to play outside. My daughter and I logged some memorable camping trips, an experience I am thrilled to share with her in the early years of her life. It was a good opportunity to catch up with friends, too, as we could recreate safely. Social distancing in the best way.
Personal growth
I think every year has been better than the last in this regard. I am always learning, reading, getting in tune with my gut feeling, and what I want from life. Last year I managed to resolve some major stressors in my life, and I am happy to start this new year in a happier place, content with my home, relationships, life in general. I will save the details, but life is too short not to be happy, and although sometimes we have to stay stuck in a difficult place, doing what we have to do until we can do what we want to, its crucial to never give up on your hearts' desires. Live the life your wild heart craves.
---