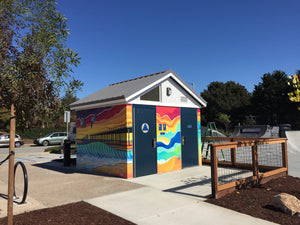 Seacliff Village Park Mural!
I am excited to have had the privilege to create this public art piece now up at Seacliff Village Park! My new mural is located on the restroom building of the park. Scroll on to read a bit about the concept and see progress photos!
Design process
Immediate thoughts when conjuring up an art piece to represent Seacliff Village were the pier, cement ship, and shark population. I worked around those initial ideas to develop the concept, designing a transition from on-land to underwater and including other marine life. For colors, I wanted the piece to be vibrant and eye-catching from a distance, so included warm sunset hues as well as blues & greens of the ocean.
I also approached the design with the hope of capturing a snapshot in time. The cement ship will erode, wildlife will migrate, but we will always have the ocean and magnificent sunsets. I sense that many of the people who choose to live in Seacliff Village have an appreciation for the ocean, so I hope the design appeals to many!
Importance of Public Art in the Community
There is immense value in exposing young people to art. Art is a versatile tool. Colorful, graphic images are a way to put into focus something of importance, whether it is a profound concept, science lesson, or just a reminder to smile. Young people are inherently creative, and they need to have access to artistic activities. It will provide our next generation with skills in creative problem solving, self-expression, and confidence.
This mural is my first piece of public art. It has been a joy to install the painting out of the studio, getting to know the regular park visitors and neighborhood cats throughout the process. What would a world without art look like? No books, movies, color. Public art makes art and inspiration accessible to everyone. It gets the community engaged in a conversation. It inspires us to look at the world from a new perspective. It also gives us something beautiful to look at as we go about our day-to-day lives.
Connecting Art + Conservation
Environmental conservation is the message that I try to channel into my work. Art is a critical tool for speaking about any cause, and there are several ways that it works. First, art inspires. A powerful image can capture our attention long enough to consider the deeper message in the art piece.
Not everyone might get to spend so much time near and in the ocean. From the surface, it looks like just a lot of water. When you spend enough time paying attention to that body of water, you witness all of the life that depends on that habitat and how any imbalance out there can drastically affect our lives on land too. Art captures things that may otherwise go unnoticed.
Art can bring people together to facilitate dialogue on a topic. It helps deliver a message to a broad audience, and thus inspires more people to share ideas and get involved in the cause.
Art is also able to stir emotions. I believe that as individuals we need to fill our lives with positive ideas, images, and activities. When our lives are joyful we have greater compassion for other humans, animals, and our planet. From there, we can become more informed and make better choices that will collectively heal the planet.
I started my painting with a coat of primer on the wall, laid out gridlines to transfer my design, and applied a first quick and loose coat of color, much like the smaller canvases I normally work on.
Visits from "Fluffy" were a highlight of my painting process!
The animals all have a bit of personality ;)
Abstract colors on the front wall connect above water and below.
---
4 comments