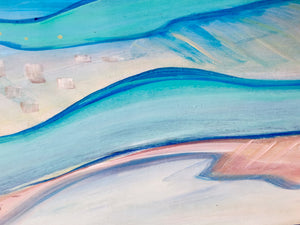 Patreon Upgrade: More Classes!
2020 has shaken things up in the art world. No more fairs, shows, group classes. Opportunities to connect are smaller and more distant. We are all experiencing the impacts.
Throughout the pandemic, political turmoil, and now wildfire season to top it off, I have found a sense of purpose in the art classes I offer. Part of me still feels silly talking about my art when my family is doing well despite everything. But hearing the feedback from students on how special, helpful, therapeutic the classes are, tells me that I need to continue down this road and share the magic of art with as many people as can benefit from it.
Virtual classes have been an amazing way to connect, create, and destress during these crazy times, and I am thrilled to now offer more classes to my Patreon Paint Along Club members.
Now, in addition to the monthly recorded tutorial, I am offering twice-monthly live interactive Zoom classes too! As we grow, I hope to increase that to a weekly schedule & invest in some better equipment for higher quality recording!
What is Patreon anyway?!
Patreon is like the Kickstarter that keeps on kickstarting. It allows me, the artist to earn a predictable monthly income so that I can create more freely. Based on the old tradition of patronage for the arts, patrons contribute a small amount of money each month in exchange for exclusive content that inspires & educates! Mozart, Da Vinci, and Shakespeare all made their masterpieces with the support of patrons!
What do I get when I sign up?!
$3 tier gives you discounts, sneak previews, and digital downloads every month!

$10 Paint Along Club

, my most popular tier, gets you a monthly recorded video tutorial, twice-monthly live interactive Zoom classes, access to all previously recorded classes, and you can request lessons! Plus everything from the $3 tier!

$29 Goodie Box subscription gets you a monthly gift package with Follow the Sun Art goodies AND everything else!
What do I do if I need to cancel?!
Trust me, I understand that circumstances shift and you may change your mind. Patreon makes it SO easy to change or cancel your pledge anytime. I will never even bug you about it. Nothing like those sneaky gym memberships and subscription services that try so hard to lure you back. Just pure support for the arts in exchange for a touch of magic in your life!
Limited time offer!
I have an extra special offer running right now as a thank you to all of my patrons, no matter how long you have been with me! Join by August 31 for your invitation to my upcoming Patron-only Zoom class on Exploring Style & Finding your Creative Flow!
Transitioning from a photorealistic style to my flowy & colorful aesthetic has been the most liberating shift in my journey as an artist. I wanted to try something new in this class, and I hope that it will inspire you to get out of your comfort zone, relieve some perfectionist tendencies, and help you feel confident & cheerful within the creative process.
Take a bold leap in your creative practice - it will be fun! Learn more & sign up at Patreon.com/followthesunart
---