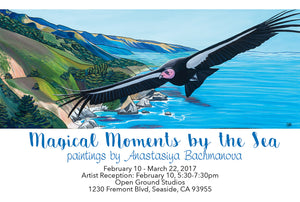 Magical Moments by the Sea: First Solo Show!
Opening Reception: Friday, February 10, 2017 from 5:30 – 7:30 pm. Join us for the artist reception at Open Ground Studios located at 1230 Fremont Blvd. Seaside, CA. The event is free and open to the public.
Magical Moments by the Sea is an exhibition of paintings by Anastasiya Bachmanova, highlighting the Monterey Bay area's diverse nature and wildlife. Anastasiya's passion is to experience the outdoors via surfing, climbing, hiking, and other adventures, and her inspiration comes from moments of connection to her surroundings - the life, the colors, the energy. She translates these moments into paintings that are true to their subjects, yet enhanced with an expression of her personality - using bright colors and flowing lines. Anastasiya uses her blank canvas as a tool to share her thoughts and opinions on what is important, what is worth protecting, and what is so magical about a certain moment or place.
Learn more here!
---