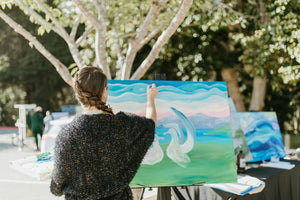 Join me on Patreon!
Patre-what?!

I am so thrilled to introduce my Patreon page! If you have not heard of it, Patreon is a place where you can support content you love on a monthly basis. Artists, musicians, podcasters, and other creatives offer exclusive rewards to their top fans. The fan support gives these creatives the funding and freedom to create more amazing and impactful things!
On my Patreon page, I have several tiers set up so you can choose the one that fits your budget & interest. Starting at just $3/month, you will have access to exclusive content & rewards not available anywhere else!
Some things to look forward to: behind the scenes previews, art downloads, video painting tutorials, art goods delivered to your door, one-on-one art lessons, and more!
Why I decided to start a Patreon page
I've been working at my art business for 6 years and intend to continue as long as I live. It is truly my passion and there is so much motivation behind it. To capture beauty, share the joy of creating, speak for the environment. 
The difficult thing about this career is that it is highly unpredictable. Having a stable income would be just one benefit of membership for me, allowing me to feel more secure in what I do and thus put more focus into making an impact with my work. 
Here are just some of my dreams that your patronage will support:
Traveling to paint & study the wildlife of the world, exhibiting that art.

Creating children's books to inspire the next generation of environmentalists.

Sharing my time & resources with non profit organizations & communities that would benefit from my skills.
I know that because you are reading this, you too care about art, the environment, and positive change. Knowing that there are so many people holding these values fuels my creativity. I look forward to getting to know you on this platform and sharing my creations & inspiration with you!
Head over to Patreon now and see what its all about!
---