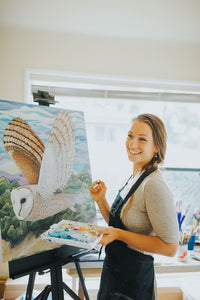 Interview with Local Santa Cruz
I recently caught up with Local Santa Cruz to talk a bit about my art & inspiration. Check out the original article here, and read on for the Q&A!
Local Santa Cruz: Please share about your background and journey as an artist; what led you to painting?
Anastasiya: You know when you are little and everyone asks what you want to be when you grow up? "Artist" was pretty high on my list even back then. I believe who we are as kids are our true selves before the pressures of society change us. I have been making art since I was a child. We have a lot of creativity in my family too, so there has always been that support for pursuing art as a career.
I am also very interested in science, environment, biology, among other subjects so growing up it was challenging to pick one thing to do. My "aha" moment came when I discovered the Integrated Studies program at my university, CSU Monterey Bay. In this program, I was inspired to integrate my passions to tell visual stories about the environment.
We all excel at something, and I feel like I have been gifted with creative talent. I realized that my purpose is to use this gift to do good in the world by making people smile and speaking for nature. I enjoy working with a variety of mediums. Painting has always been accessible for me because you don't need expensive tools or a ton of space.
What inspires your paintings and you as an artist? 
I am very outdoorsy and love to surf, hike, camp, climb, snowboard – pretty much any adventure I am up for! It is such a beautiful world when you stop and look around. I am constantly inspired by small and simple moments, like the clouds on a stormy day, marine life sightings on the bay, the way the light shines through the waves to create a rainbow of blues and greens. There are so many of these tiny moments I want to capture in paintings that I can't keep up.
As far as style goes, I love playing with color and lines. I draw inspiration from other contemporary artists, finding new techniques to incorporate into my work. Over the years my style has evolved from photorealistic to stylized and playful. I have much more fun creating this way and it feels like an authentic expression of myself, cheerful and vibrant!
Tell us about your artistic process in the studio! What excites you about seeing a blank canvas evolve and come to life?
The most exciting aspect of the process for me is making something out of nothing. Every creation begins as just an idea in my mind, a concept. I can usually visualize the finished product in my mind, and how I will achieve it.
From there, I sketch out my idea on paper, usually using reference images that I have or find online and change a little. I make several small sketches to find the best composition. I also think about what colors I will use in the piece. Once the idea is more developed, I get my nice canvas or paper and begin the painting.
I thoroughly enjoy the therapeutic effect that creativity provides. There are moments of frustration but you can always overcome them with a little bit of effort. I love getting lost in the process, but also take time to step back for a fresh perspective, or to get feedback from others.
How does living in SC and being immersed in the local culture, environment, and community influence your creative work?
Santa Cruz is amazing! The environment is infinitely inspiring, from the abundant sea life to the redwood forests. There are so many opportunities to play outside and fuel my inspiration. I actually grew up in Philadelphia, where I loved to be creative but struggled to stay inspired. Living in California, by the ocean, I am never short of ideas.
The community values art and the environment. When I see my work appreciated by others, I am motivated to create more. The artist community is amazing too. One thing I was always intimidated by in the art world is the gallery culture. But here in Santa Cruz, artists are so supportive of each other, small businesses are excited to collaborate, and there are many chances to display work and meet new people.
You offer some great ways for people to experience art through classes and parties! How else can people follow you and your work?
Yes, I love teaching and helping my students get in touch with their creative side. My last event this year will be the Jingle Shells Arts & Crafts Festival on Dec 15th, 2019 at the Seymour Center. 
I'm looking forward to more classes and events next year. In the meantime, you can subscribe to my weekly email updates or follow me on Instagram: @followthesunart.
Anastasiya's work is also now available for sale on the Loc Art app!
---