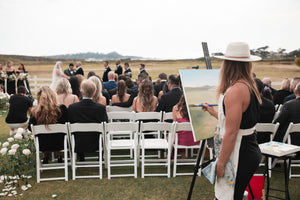 Wedding Painting in the Bay Area!
The beauty of being an artist is that you never quite know where your art will take you. Surrendering to the shifting tides of your humanity, your art, a painting unfolds. New experiences are had, lessons are learned, and you begin to trust the process.

That's how I started painting at weddings. Early this year, I received a request to paint live at the wedding of a long-time fan. I agreed to do it, with a mix of excitement about doing something different and unique and nervousness about the pressure of capturing such an important moment. Through the year, I've received many more requests (live wedding painting is a trending thing at the moment), so here I am, your new Bay Area wedding painter!


I was mortified heading into my first event, navigating this new world of the wedding industry, various traditions, and the flow of things, not to mention learning how to paint people well. (I've always been so animal & nature-focused.) However, as I attended more weddings throughout the fall, the practice and experience made everything flow easier with each new painting.


I have captured various moments, including ceremonies, the first kiss, and dances. I approach each event by initially getting some ideas from the couple. We decide which moment they want to be painted, where it will be set, and who to include in the piece. I arrive 1-2 hours early to set up, plan the work, and begin on the background. The light & energy changes as the day progresses, so I make sure to leave room to incorporate these details as they happen.

When the time comes for the big moment, I put down my supplies and bring my full attention to the surroundings. I take photos & videos to use for reference and then proceed to put it all together, painting through the ceremony and reception so that guests can see the process unfold. Throughout the evening, guests can check in to see the painting's evolution from the rough beginning stages to when I finally add in the bride & groom.


After getting as much into the piece on-site as possible, I will wrap up and take the painting home with me. Then, I spend the following weeks polishing up the details, ensuring everything is neat, and incorporating additional elements of the day (I especially love adding florals!)


To finish up, I neatly paint the edges of the canvas, add a coat of protective, glossy varnish, and attach the hanging wire so it is ready to display, a masterpiece to be cherished forever.
 Interested in having me paint at your wedding? Contact me to check availability & for more information!
Wedding photos by JeLau Photography.
---